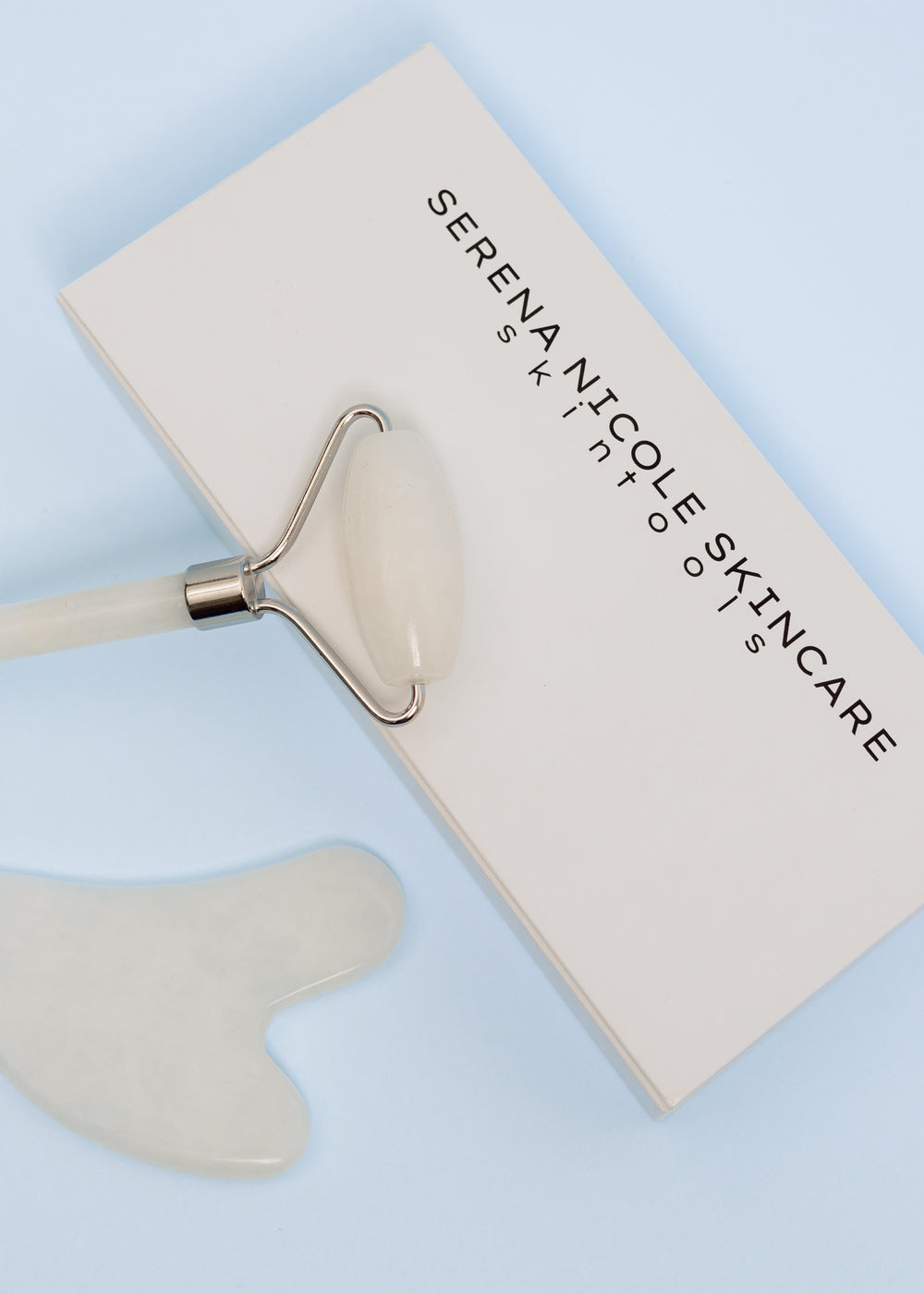 White Jade Roller + Gua Sha Set
Our White Jade Roller and Gua Sha Set is the perfect way to help treat the skin and massage in serums, products, etc.

Jade's healing cooling affects help with brightening your complexion, reducing puffiness, stimulating lymphatic drainage, and promoting blood circulation.

While Gua Sha can be used to relieve tension in the muscles of the face, boost blood circulation, and encourage lymphatic drainage to reduce facial bloating.

The combination of these 2 products will ensure your  skin gets all benefits of your skin products & that your face is bright & relaxed!
HOW TO USE YOUR GUA SHA FACE MASSAGER
Take your Gua Sha and start at the base of your neck and using a light gliding motion, work your way up to your jawline.
Glide up, towards your forehead, going over your jawline, chin, and mouth.
Glide across your checks and press under the eyes and across your eyebrows.
Finish up with more upward glides on the forehead up to the hairline.
HOW TO USE YOUR JADE ROLLER
Forehead: Start by gently placing your quartz roller on the center of your forehead near your hairline. Roll downwards towards your ear until you reach your temple. Repeat 5 times, then repeat on the other side.
Eyes: Use the smaller end of your roller for the skin around your eyes. Begin by placing your roller on the inner corner of your under eye. Roll outwards towards your ear. Repeat 5 times, then repeat on the other side.
Face: Roll your cheekbones, lips, and chin using the same basic method as your forehead and eyes. Starting at the center of your face (next to your nose, in the center of your upper lip, or the center of your chin), roll outwards towards your ears. Repeat 5 times on each side.
When to Use 
Use for 5-10 minutes, 3 times a week.
For best results, store in the fridge or freezer for a refreshing experience.